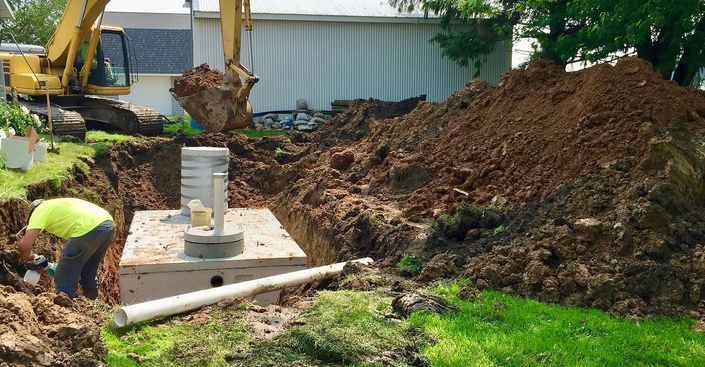 Septic Tank Repair in Canton, GA
If you are among the twenty percent of U.S. property owners who depend on a septic tank installation for sewage treatment, then you are free from those monthly sewer bills. However, that cost is replaced with another. In your situation, you are responsible for maintenance. Fortunately, you do not have to get dirty. You can leave that septic tank maintenance and septic tank repair to the qualified technicians at Rooter Septic Service. We are also at your service for your annual or biennial septic tank inspection in Canton, GA. If you are worried about septic tank damage or if it is time for your septic system inspection, then call Rooter Septic Service to speak with a live representative and schedule an appointment.
Routine Maintenance Saves Money
You might be worried about the cost of septic tank maintenance but consider the cost of a neglected septic system. Because the septic system is responsible for safely collecting and treating wastewater and sewage, a damaged septic system can expose you to serious health hazards as well as legal liabilities. Any contamination of groundwater or property can be your responsibility, costing you thousands of dollars in damages. Why deal with that headache when you can stay ahead of any problems with routine septic system maintenance? Call Rooter Septic Service to schedule your appointment today.
Repairs Cannot Wait
A damaged septic system cannot wait. Plus, there is no reason to delay your septic tank repair in Canton when Rooter Septic Service is at your service around the clock. We are proud to have competitive prices as well as regular coupons, discounts, and promotional offers. If you notice any of the following signs of trouble, then call Rooter Septic Service to arrange an urgent septic tank repair as soon as possible:
Foul odors coming from drains and the yard
Water and sewage backups
Patches of overly lush grass in the yard
Sinkholes in the yard
Pest and rodent infestations
Postponing repairs can allow those damages to snowball into bigger problems. Nip the issue in the bud with routine maintenance and get damages repaired as soon as possible. Rooter Septic Service is ready to help.
Septic Tank Maintenance in Canton, GA
We Do Installations as Well
If you are working on a new building project, then you have got to plan for sewage and wastewater maintenance, especially if you live in a rural area or off the grid. Most property owners in this circumstance go with a septic tank installation. If you need a septic tank installation in Canton, then put your trust in Rooter Septic Service. Our courteous representatives are happy to provide a consultation and get started on planning your septic system installation.
We Serve All Areas of Canton, GA
Canton, GA residents do not have to rummage through search engine results for "septic tank installers near me." Instead, you can grab the phone and call Rooter Septic Service to speak with a live, friendly representative. We serve all areas of Canton, GA and are happy to schedule an appointment or arrange an emergency dispatch today.