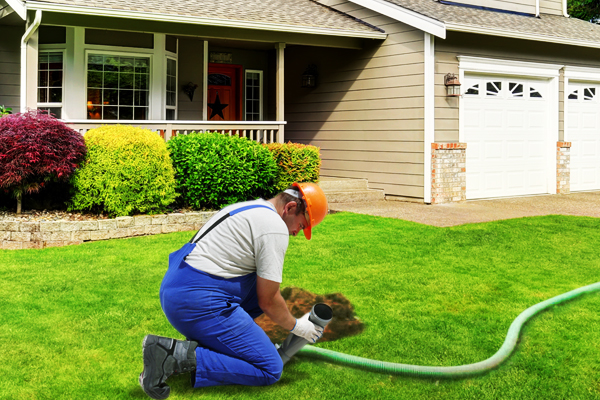 Septic Tank Pumping in Kennesaw, GA
Is it time for your routine septic tank pumping or septic tank cleaning in Kennesaw? Call Rooter Septic Service to learn about our available septic tank cleaning packages and schedule your flexible appointment today. We are thrilled to deliver reliable septic tank pumping in Kennesaw with around the clock service and affordable prices. Our live representatives and dedicated septic technicians are on standby to take your call now. We are ready when you are.
Proper Care and Maintenance Go A Long Way
Your septic system is fairly simple in design but equally sensitive. When caring for your septic system, remember all tips associated with regular plumbing and centralized sewer systems but be even more careful.
So, avoid flushing anything other than the three P's: pee, poop, and toilet paper. Flushing anything else, including paper towels, wet wipes, hygiene products, and kitty litter, can cause clogging or damage your septic system. The same goes for food scraps and used fats, oils, and grease. Further, refrain from using harsh chemical cleaners as these can kill "good" bacteria and microorganisms housed in the septic tank.
You also want to be careful with what gets near your septic system. Keep traffic away from around the septic system. Do not drive over or install large structures upon the septic tank or drain field areas. Trees can also be harmful as invasive tree roots can damage pipes. Plant trees a safe distance away from your septic system.
Possibly the Most Important Maintenance Item
There is a lot you can do to get the most out of your septic system's service life. Possibly the most important maintenance item is septic tank cleaning and septic tank pumping in Kennesaw.
The Environmental Protection Agency suggests that septic tanks be pumped once every three to five years, but this depends on a few factors including the size of the septic tank, the size of your household, and your household's plumbing activity. Obviously, a small septic tank belonging to a large and busy family will have to be pumped much more frequently.
Kennesaw Septic Tank Cleaning
What Is Septic Pumping?
A wastewater treatment system pumping, or a septic system pumping, is simply the removal of excess waste and wastewater from the septic tank. When wastewater, scum, and sludge levels in the septic tank reach unsafe levels, it is time to call Rooter Septic Service to schedule a Kennesaw septic system pumping. Call Rooter Septic Service if you believe it is time for your septic tank pumping or if you do not know when your septic tank was last pumped.
We Provide Emergency Septic Service
If you have been rummaging through web results for "septic pumping near me," then odds are you are looking for someone to come out to your property as soon as possible. Well, Rooter Septic Service is near you in Kennesaw and can have a septic technician out to your property as soon as within the hour. Call Rooter Septic Service to request an urgent septic tank cleaning or septic tank pumping in Kennesaw today. Our live representatives and dedicated septic technicians are on standby to take your call now.